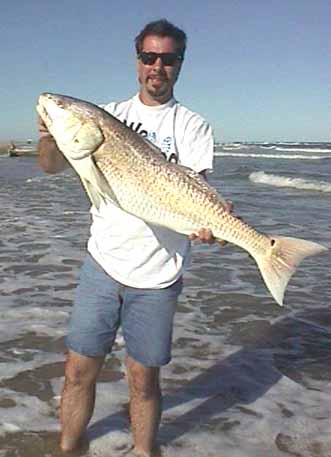 According to the Marine Resources Research Institute (South Carolina Department of Natural Resources), the red drum (Sciaenops ocellatus) is a long lived marine finfish (> 50 years of age) which has an estuarine dependant early life history (ages 0-4). Throughout the southeast USA, this species (known locally as spottail bass) is one of the top three fish preferred by saltwater anglers.
Lawrence W. McEachron, C.E. McCarty, and Robert R. Vega have reported on the Successful Enhancement of the Texas Red Drum (Sciaenops ocellatus) Population. From the abstract:
Red drum (Sciaenops ocellatus) is an estuarine-dependent sciaenid that inhabits estuaries, bays, and coastal regions from New York to Mexico. In Texas, the red drum population began a dramatic decline in the 1970s, prompting the Texas Parks and Wildlife Department (TPWD) to set up a three-pronged recovery plan. Management approaches were: 1) Initiate an independent monitoring program to assess relative abundance; 2) Implement restrictive regulations to reduce fishing pressure, including license restrictions, size, bag, and possession limits, a commercial quota, restrictions on netting, and a ban on commercial sale of red drum; and 3) Develop and start a marine enhancement program based on the release of hatchery-reared fingerlings and assessment of subsequent survival.

Recently, the red drum population in Texas coastal water rebounded because of several factors that had a positive effect on the recovery. TPWDs long-term management plan utilizing hatcheries and stocking to supplement natural spawning played a role in reversing the decline of the red drum population. The strategy used by the TPWD can serve as a blueprint for other marine enhancement programs.
The FAO have reported on Aquaculture Development of Red Drum (Sciaenops Ocellatus) in Martinique and the French West Indies. Note – the report is contained with other aquaculture reports on the page. From the summary:
The aquaculture of red drum (Sciaenops ocellatus) has been the subject of research and development work in Martinique since 1985. It was during the initial eight-year period that research findings showed the suitability of the species for domestication and mariculture.

However, whilst biological and technical knowledge is a compulsory prerequisite, it is not the only requirement for development. Operations throughout the production chain need to be synchronised, right through to product selling and company profitability. This explains the lengthy development process.

Since 2000, research reorganisation at IFREMER, the separation of larval rearing from growing-out, and the political and financial support of Martinique Region, have given a fresh impetus to our work, and development is now really taking off.

However, Martinique should not be the only island to benefit from this example; other Caribbean countries must also be given the opportunity to put the small-scale aquaculture model into practice.