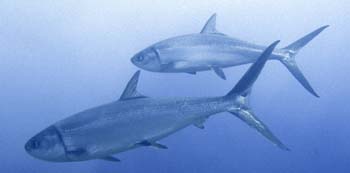 Milkfish has been cultured throughout Asia for many years. In the Philippines there has been a steady and substantial demand for milkfish or bangus as is known locally. According to the Philippine Department of Agriculture, milkfish 'has been doing well in the international market with Philippine export of frozen or chilled bangus reaching over 526 metric tons or some P8.5 million annually.' The Philippine Department of Agriculture has published an overview of the semi-intensive culture of milkfish.
Kee-Chai Chong, Ian R. Smith, and Maura S. Lizarondo have published, through the United Nations University (1982), a substantial paper entitled Economics of the Philippine Milkfish Resource System.
From the preface:
Considerable research has been conducted on milkfish in the Philippines. However, the available publications are scattered, and no attempt has been made in recent years to consolidate this information so that a concise appraisal can be made of the entire milkfish resource system, from fry gathering through dealers and nursery, rearing pond, and fishpen operators to marketing. The dual purpose of this paper is to provide such an overview of the Philippines milkfish resource system and to evaluate its efficiency.