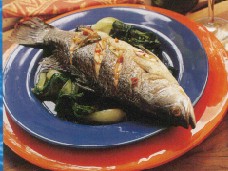 The strength of Australian aquaculture lies in its disease-free status and reputation for providing clean, green products. Many serious infectious diseases, which limit aquaculture production overseas, remain exotic (foreign) to Australia. However, experience overseas shows that as fish production intensifies, the incidence of diseases also increases.
Exotic disease outbreaks are a significant threat to Australian aquaculture. In a suspected outbreak, disease control is the responsibility of State fish health authorities, who are supported by the CSIRO Australian Animal Health Laboratory (AAHL) Fish Diseases Laboratory (AFDL). This facility is managed by CSIRO Livestock Industries.
Finfish diseases, especially salmonid diseases, have been studied for many years and most can be tested for at AFDL. However, as Australians begin culturing different species, new diseases are likely to occur.
Fast and accurate disease identification is crucial in containment of a disease outbreak. Many fish diseases are manifest by similar disease signs such as skin lesions, sluggishness and loss of balance, condition and appetite. Laboratory tests often provide the only means to diagnose a disease with certainty to ensure that appropriate disease controls are implemented.
The AFDL is an integral part of CSIRO's Australian Animal Health Laboratory (AAHL), a national facility specialising in research and diagnosis of animal and fish diseases, especially exotic diseases. This means AFDL scientists are ideally placed to diagnose both exotic diseases and newly emerging diseases.
As a diagnostic and research laboratory, AFDL has four major roles:
* disease diagnosis and identification of infectious agents (pathogens)
* development of diagnostic tests for exotic diseases
* training and technology transfer
* export certification testing and health surveillance.
In CSIRO AAHL's microbiologically secure research facility, exotic disease agents can be studied without risking accidental release to the external environment. The CSIRO has released a list of diseases of concern to aquaculture.